Team Building Hunt - CSI, Scavenger, or Limo
Team members follow the specially prepared map with many clues and team challenges (optional) along the way, to find their treasure!



The metaphor of small teams working together and then only succeeding as one large team that connects the dots to the workplace.



The clues can be 'themed' around an industry, business issue, product, or fun trivia! *Special design requires all teams to collaborate.*



Team Hunt - Group Size / Time Required: Any size group (even 300+) divided into teams of 5-10 each / about 2 to 3 hours depending on number of people and challenge level of the route, clues and included team challenges.



Lighter, fun with lessons learned in our team building hunt activities.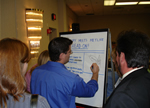 Celebrating Over 20 Years of Serving Clients