Team Building Effectiveness Workshop
The GPS team workshop includes facilitator presentations, frameworks, tools, experiential activities, discussions, take-away materials, next steps, and optional team and/or individual feedback surveys.



This approach usually blends:
- Pre-Analysis
- Team Activities
- Facilitated Discussions as needed around Team Chartering; roles; group development; team leadership; meeting tools; process improvement; decision making tools; and interpersonal styles.



Team Effectiveness workshop's feature leading edge facilitated tools.



Focused on real Team Effectiveness for intact or project teams, facing issues.



Half day to two days depending on content to be covered, issues and desired improvement results.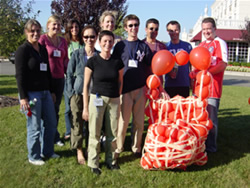 Celebrating Over 20 Years of Serving Clients